High-Level Expert Meeting
On October 25, 2021, we co-organized a high level expert meeting on "Science in Policymaking: Understanding the Use of Science in Migration Policy".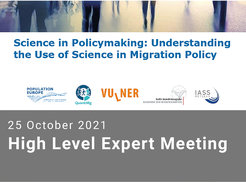 The meeting was organised together with the Berlin-Brandenburg Academy of Sciences and Humanities, the Institute for Advanced Sustainability Studies in Potsdam (IASS), and our sister project QuantMig.
The objective of the meeting was to discuss how policymakers and actors involved in policymaking in the area of international migration make sense and use science in their daily routines. How do they collect the information they need to make decisions – internally and externally? How do they decide on which experts to trust and from which disciplinary backgrounds? Are there institutional guidelines facilitating or hindering science-related action? And what role does the media - and particularly - digital media play in that regard – as a source of information or disinformation?
The discussion shed light on science information and communication habits by different actors involved in policymaking and addressed institutional strategies for improving evidence-informed policymaking.
A policy brief summarizing the content of the discussion will be published soon.
For more detailed information on the event visit here.