Launch Seminar
On November 3, 2021 at 09:00 - 10:30 CET, the VULNER Norwegian team is presenting their research report "Vulnerable Protection Seekers in Norway: Regulations, Practices, and Challenges" during a launch seminar at the Institute for Social Research, ISF.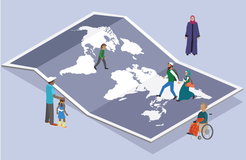 The launch seminar will start with a reflection on migrants' vulnerability in the current refugee situation by Pål Nesse, Secretary General of NOAS, before the researchers present their main findings.
Then there will be comments from Prof. Emeritus Nora Sveaass, the Norwegian National Human Rights Institution (NIM) and from the research team, before the floor is open for questions from the audience.
The event will be held in Norwegian.
A brief summary of the event can be found here and a recording of the event here.
For more information and registration visit here.
A Norwegian VULNER policy brief can be accessed here.