Published Op-Ed
Luc Leboeuf, scientific coordinator of the VULNER project, wrote the Op-ed "Comment stabiliser les frontières de l'Union ?" for the newspaper La Libre, published on November 23, 2021.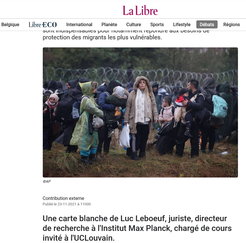 Based on his recent VULNER blogpost The Need for a Comprehensive EU Framework to Stabilize EU Borders, Luc Leboeuf argues that a border screening procedure, as suggested by the European Commission, can be the basis for a systematic framework to address surges in migration towards EU borders – provided that the implementation issues are tackled adequately.
The article is in French and can be accessed here.