Workshop Participation
Luc Leboeuf, VULNER's scientific coordinator, speaks at the Max Planck Law Training "Law and Anthropology: Rethinking Normativities, Legal Dynamics, Approaches and Practices" taking place at the MPI for Social Anthropology, from May 18 - 20, 2022.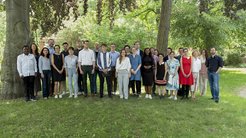 During the training, Luc gives a talk on 'The Law & Anthropology of Migrants' Vulnerabilities: Rethinking the Law Through Its Lived Dimensions'. In his talk, he discussed the VULNER's project's interdisciplinary methodological approach, with a focus on how it combines legal and anthropological research methods and conceptualisations with the view of reaching a more profound understandings of the legal and social dynamics that contribute in shaping migrants' experiences of vulnerability.

For more information on the event, please visit here.