VULNER in brief
Who we are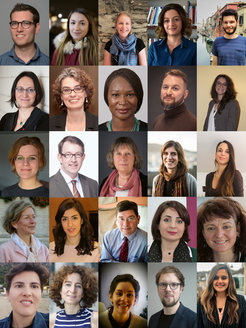 The VULNER project is a joint study by about 25 researchers from nine different universities and research centres from Europe, the Middle East and North America. The researchers are trained in law, sociology and anthropology. The law is a set of rules made by states to take care of its people and instructs them on how to behave. Sociology and anthropology are the study of groups of people and their behaviors.

The VULNER project is funded by the European Union and Canada, but the researchers are fully independent from any government.

You can find a presentation of the researchers by clicking here.
What we do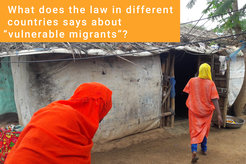 Law-makers and politicians in Europe and around the world see it more and more important to find ways in how to deal with migrants who are leaving their homes because of many reasons such as war, violence or climate change. Their journey to other countries is often risky and unsafe, especially for "vulnerable migrants" such as children, pregnant women, LGBTQI+ people and those who are abused by criminal networks.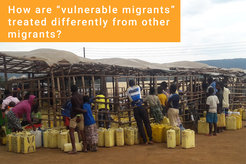 But rules on how to protect "vulnerable migrants" differ from one country to another. Law-makers in different countries do not have the same idea of what makes migrants "vulnerable" and how "vulnerable migrants" should be protected. So, national laws and the ways that government workers protect "vulnerable migrants" are different.
The researchers of the VULNER project want to find out what is different in the countries they study and what happens to migrants because of this.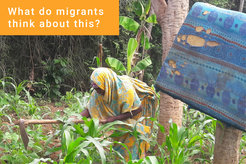 We want to find answers to questions like:
- What does the law in different countries says about "vulnerable migrants"?
- How are "vulnerable migrants" treated differently from other migrants?
- What do migrants think about this?
Where we are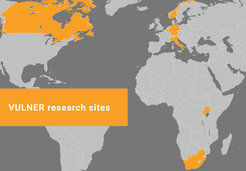 The 25 researchers of the VULNER project are working with migrant communities in 8 different countries:

- in Europe (Belgium, Germany, Italy, Norway)
- in Africa (Uganda and South Africa)
- in the Middle East (Lebanon)
- and in North America (Canada).