IMISCOE Annual Conference
On June 30, 2022, the VULNER panel entitled "'Vulnerability', a Bureaucratic Category in the Making: Promises, Challenges and Pitfalls" took place at the IMISCOE Annual Conference in Oslo.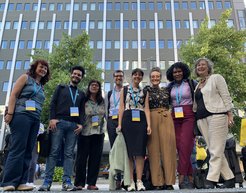 The panel was chaired by Hilde Lidén, leader of the VULNER Norwegian team. It featured the paper presentations of VULNER project members Melissa Anderson, Dagmar Soennecken, and Ritika Tanotra (Two Worlds of Vulnerability in Canada's Refugee Policies: At Home vs. Abroad); Sophie Nakueira (Vulnerability Assessments and Implementation Challenges of Humanitarian Aid in Uganda); Sylvie Sarolea, Francesca Raimondo and Zoé Crine (Asylum Procedure and Vulnerabilities: Objectives, Practices and Pitfalls); Sabrina Marchetti and Dany Carnassale (A 'time' Perspective on Asylum Seekers' Mobile Dwelling in the Italian Reception System); and Luc Leboeuf (The Travels and Transformations of 'Vulnerability'. From Universalism to Selection).

On July 1, 2022, Sabrina Marchetti chaired the panel 'Exploited, criminalized, or protected? conflicting categorisations and subjective experiences of migrants in Europe across multiple temporalities'. Letizia Palumbo and Giulia Garofalo presented their paper as part of that panel (Protection from what, from when and for how long? Short and long terms effects of the intertwining of the asylum and anti-trafficking systems in Italy).

Find out more about the IMISCOE conference here.