IMISCOE Panel
Giulia Garofalo Geymonat, VULNER member of the Italian team, and Letizia Palumbo, also part of the Italian team and leader of the thematic WP on human trafficking participated in the 19th IMISCOE Annual Conference (Oslo), June 29 - July 1, 2022 with a paper addressing the intertwining of the asylum system and the anti-trafficking system in Italy. Their paper was part of the panel entitled 'Exploited, criminalized, or protected? Conflicting categorisations and subjective experiences of migrants in Europe across multiple temporalities'.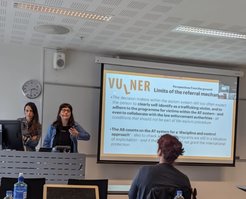 Their presentation was based on their research, conducted as part of the VULNER Italian team, which investigates the impact of a procedure called 'referral mechanism' introduced in Italy in 2017 to connect the anti-trafficking and asylum systems. According to this mechanism, which is internationally looked at as a good practice, local commissions for the recognition of international protection (called 'Territorial Commissions') may 'refer' cases of individuals identified as potential victims of trafficking to anti-trafficking NGOs. In other words, the Territorial Commissions may start a collaboration with the anti-trafficking system in order to better implement the recognition of asylum on the ground of trafficking or else to transfer the case to the anti-trafficking system. This referral mechanism has been also applied in tribunals and reception centers.
The research interrogates the impact of this 'referral mechanism' on migrants involved in trafficking situations, in particular through looking at the perspectives of socio-legal workers in anti-trafficking projects. These embedded reflections are useful to understand the positive impact that this referral mechanism has on migrants with experience of trafficking in Italy, especially in terms of accessing more stable regularisation paths, independent of any collaboration with law enforcement authorities.
However, their research also shows how difficult it is for migrants to actually navigate the asylum and anti-trafficking systems and understand their rights and opportunities. Also, it shows how members of local commissions and judges still draw on stereotyped views of who the 'real' trafficking victims are and what the right ways are to protect them, views which may result in denying protections and rights to migrants with actual experiences of trafficking.