NANSEN Conference
On September 30, 2022 Julie Lejeune, VULNER advisory board member and director of NANSEN (the Belgian Refugee Council), is organizing a conference on vulnerabilities as part of the international protection process in Belgium.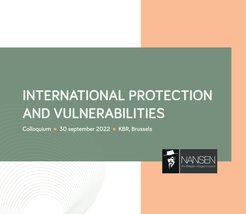 The event will gather academics, experts and practitioners from civil society organizations and Belgian institutions to discuss and reflect on current practices of vulnerability assessment and the protection of the most vulnerable refugees.
Nora Sveaass, VULNER advisory board member, and Luc Leboeuf, VULNER scientific coordinator, will take part as speakers.
The event is organized in English and in French.
For more information please visit NANSEN's website.