Workshop
On November 24, 2022 Cathrine Brun and Maria Maalouf, VULNER members of the Lebanese team, organize a workshop entitled "Dilemmas of Protection: Assisting Vulnerable People in Lebanon's Compounded Crisis" in Beirut.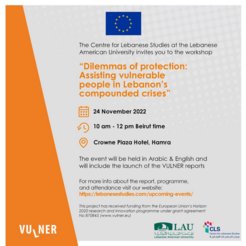 The workshop will present the research findings of the second VULNER research report. Members of the Lebanese team and invited speakers from various institutions will reflect on the meaning of vulnerability at different administrative levels. They will try unpack the current state of the response to the vulnerability of people in Lebanon in texts and on the ground and discuss ways to improve it. Discussants will also try to address the need for legal and social protection for different groups and situations in the country, and how the state, local authorities, civil society, and vulnerable people themselves approach vulnerability today.
For more information on the workshop, including the programme and registration visit the workshop's website.