Conference Participation
On November 18, 2022, Luc Leboeuf, VULNER scientific coordinator, took part to the conference organized by the Max Planck Law Network, as part of a panel that sought to unpack the relationship between law and solidarity.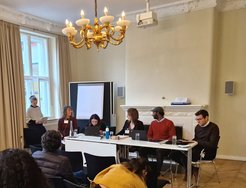 He discussed how a better understanding of migrants' experiences of vulnerability can assist in implementing and designing legal provisions that seek to establish solidarity among states (when meeting their obligations towards refugees) and with refugees.
The panel was organized by Larissa Vetters and Alice Margaria, both from the Department of 'Law & Anthropology' of the Max Planck Institute for Social Anthropology.
For more information on the conference, including the programme visit the Max Planck Law website.