Speaking Refugee - the VULNER Podcast, with Sham Jaff
Starting on December 1st, 2022, 'Speaking Refugee - The VULNER Podcast' will take you on a journey to Uganda, Lebanon and Belgium to explore the different meanings and facets of vulnerability and resilience. Hosted by Sham Jaff.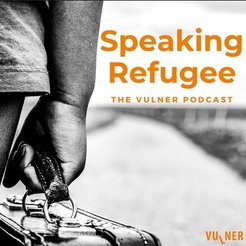 The VULNER projects' six parts podcast series that explores how refugees experience their 'vulnerabilities' when seeking asylum.
In this podcast the focus is on the individual experiences and feelings, that constitute the 'vulnerability' of refugees and that are often overlooked. It brings together scientific field work and the stories of refugees, by doing so the series tries to find out: How does vulnerability show at the different stages of the migration process?
To answer this question the VULNER team talked to three people from three different countries: You will meet Jameela, who is a refugee from Afghanistan and currently in an accommodation centre in Belgium. Gabriel, who has a refugee history himself and is now working with refugees in Uganda. And VULNER researchers talked to Fatima, a humanitarian worker in the MENA region with Basmeh and Zeitooneh – one of the areas where refugees live in Lebanon.
Listen to the trailer here.