Journal Article
Sophie Nakueira, leader of VULNER African team, co-authored together with Sophie Andreetta the journal article 'The governance of vulnerable migrants: procedure, resources and affect in asylum reception', which is published in Citizenship Studies.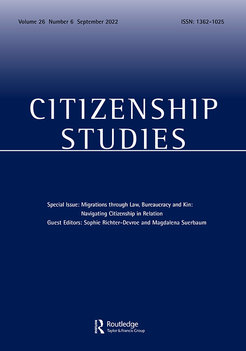 This article explores how vulnerability is understood, appropriated and translated into procedural regulations and actual bureaucratic practices based on two case studies: 1) the reception of asylum seekers in Belgium; and 2) the reception of asylum seekers and provision of aid services in humanitarian operations in Uganda. These two cases demonstrate that 'vulnerable groups' and the corresponding procedural and substantial safeguards or protections are often defined flexibly, depending on the resources available to public institutions on the one hand, and specific agency guidelines and definitions of 'vulnerable' status on the other. The ethnographic data show that reception bureaucrats are uncomfortably wedged between their desire to help and their obligation to follow state policies. To reconcile these (sometimes contradictory) obligations, they break administrative guidelines, use their own resources to make up for the shortcomings of their institution, or systematically decline migrants' requests in the hope of demonstrating the absurdity of current reception policies.
The full article is available online and will later be available in print as part of the Citizenship Studies series. At the time of making this announcement there is an embargo for the article, but it will be available in open access.