Conference Participation 30-31 January 2023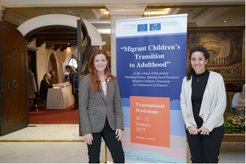 On January 2023, 30-31, Hilde Liden, leader of the work package on Norway and of the work package on vulnerabilities that relate to age, took part to the transnational workshop 'Migrant Children's Transition to Adulthood'. She presented a paper entitled 'Transition to adulthood: From vulnerable children to capable adults?'.
The aim of the workshop was to raise awareness of the basic rights and special needs of legal support for migrant children, and to strengthen the knowledge of relevant professionals in supporting unaccompanied children during their transition to adulthood. To foster exchanges of experiences and strengthen transnational and multi-agency co-operation between the member states of the Council of Europe, the workshop included experts from academia, child protection agencies, and international and civil society organisations who are involved in offering protection services to unaccompanied children and young refugees and migrants.