Policy Handbook
Better Policies and Laws to Address Migrants' Vulnerabilities. 10 Key Messages from the VULNER Project
 
In recent years, policymakers across Europe have increasingly stressed the importance of protecting "vulnerable migrants". "Vulnerability" is a powerful term that can sway public opinion on divisive topics, such as migration. This Policy Handbook presents ten conclusions from the VULNER Project. Each chapter includes empirical examples and concrete recommendations for migration policy.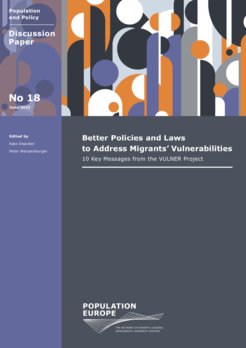 In Europe, legal obligations towards migrants deemed as "vulnerable" have been a reality for over 10 years. EU Member States are required to address the special reception and procedural needs of these vulnerable asylum seekers. European Courts such as the European Court of Human Rights regularly assess the vulnerabilities of migrants – for example, when evaluating whether a forced removal would violate their fundamental rights. Yet, there is still a lack of harmonised practice across the EU. Discussions are ongoing, and the topic of border procedures has become particularly contentious.
To prevent further inconsistencies, the VULNER project sought to understand how "vulnerability assessments" are already implemented in legal and bureaucratic practice, as well as to evaluate these practices with reference to the lived experiences of migrants seeking protection. The researchers analysed state regulations. They interviewed a variety of migrants in these positions about their experiences of vulnerability. They spoke to judges, asylum officers, social workers and humanitarian workers.
The results show the gaps between the perspectives and realities of the different actors. The implication of this is that current policies, laws and practices are not consistent. Moreover, the findings highlight how aspects of the institutional systems with which migrants seeking protection engage contribute to their vulnerabilities – for example through the asylum process, reception centres, the care of unaccompanied minors, and in aid programmes for refugees in first countries of asylum.
This handbook presents 10 key findings along with recommendations for policies. Download the handbook here.