Book Publication
A collective volume entitled Humanitarian Admission to Europe: The Law between Promises and Constraints edited by Marie-Claire Foblets and VULNER scientific coordinator Luc Leboeuf has been published by Nomos and Hart Publishing. Bringing together contributions from legal scholars and practitioners, the book broadens the discussion of the extent to which policy controversies regarding humanitarian admission to Europe are channeled and managed through law.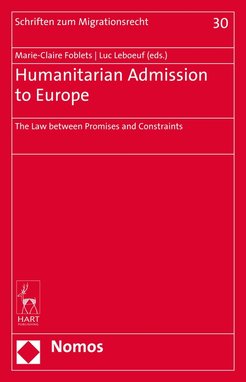 The book is divided into four parts.
The first part identifies the international and European legal obligations that are binding for both the EU and the Member States, and the constraints they impose – potentially and actually – when dealing with migrants located outside EU territory.
The second part studies the legal framework of humanitarian admission in three Member States (Germany, Italy, and Belgium), as well as the related procedures and practices.
The third part focuses on the experiences of those seeking humanitarian admission, including how they mobilize the law to obtain legal access to Europe. It presents the results of ethnographic fieldwork conducted among refugees in a camp in Uganda who are seeking resettlement, as well as the testimony of the lawyer who defended a Syrian family applying for a humanitarian visa in Belgium in a landmark case that was litigated before the CJEU (X. and X. v. Belgium).
The fourth part discusses the prospects for future developments in the EU legal and policy framework, including attempts at reforming the EU Visa Code and establishing a Union resettlement framework.

The book includes a contribution from Sylvie Sarolea, leader of the Belgian team of the VULNER project, which discusses the deficiencies in the current international and EU legal frameworks regarding the protection of migrants outside the EU. Taking a critical perspective, she draws connections with the broader issue access to justice.