Published Op-ed
The VULNER project members of the Institute of Social Research Hilde Lidén, Jessica Schultz and Helene Wessmann have published an op-ed in the daily newspaper Klassenkampen.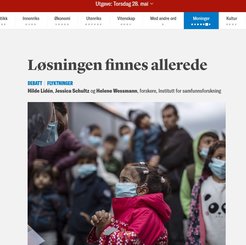 The article addresses the ongoing public debate in Norway on the relocation of refugee children now living under increasingly difficult conditions in Greece because of the Covid-19 epidemic. The Norwegian government has decided to relocate vulnerable refugees, however only if 8-10 other European countries are implementing their intention to do so.
The lack of measures for identifying the most vulnerable have been the key argument for not responding on the request from Greece authorities, EU and UNHCR.
The article presents the guiding principles that have been developed by UNHCR, IOM and UNICEF to identify unaccompanied children to relocate from Greece to other countries in Europe. The authors also discuss the need to pursue durable solutions for those relocated.
This article is published in Norwegian.