Book Publication
VULNER's team in Germany, Helene Heuser, Jakob Junghans and Winfried Kluth, recently published "The Protection of Vulnerable Persons in Refugee and Migration Law," (Der Schutz vulnerabler Personen im Flucht-und Migrationsrecht) mapping out the vulnerability assessment mechanisms in Germany.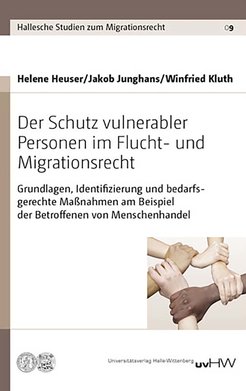 Published under the German title "Der Schutz vulnerabler Personen im Flucht- und Migrationsrecht," the book focuses on four aspects:
The interplay of the international, EU and federal levels in a multilevel legal system;
A systematic analysis of the existing norms, their implementation and efficacy;
The special regulations and procedures relating to victims of human trafficking;
The importance of different infrastructural settings in different parts of Germany and their effects on satisfying the special reception and procedural needs (special needs) of vulnerable migrants and protection seekers in general and victims of human trafficking in particular.
They conclude that although the awareness of the special needs of vulnerable protection seekers in Germany is increasing, it is not yet sufficiently legally implemented in comparison to the provisions of international and European Law. Therefore, the asylum and reception procedure should be reformed, so that the identification and consideration of vulnerable persons are regarded as an integral part of the procedures in all parts of Germany.
A more detailed abstract can be found here.
The German book can be fully downloaded here.