Expert Hearing
Helene Heuser, VULNER Senior Researcher of the German team, was invited to the expert hearing at the German Parliament of Thuringia on the topic of municipal humanitarian admission programs for vulnerable refugees from Greek hotspots.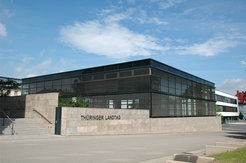 The hearing took place at the petition committee of the parliament and was broadcasted live at the parliaments channel. The discussed petition asks the parliamentarians to decide on joining the complaint of the city-state of Berlin against the federal state at the federal administrative court to approve their humanitarian admission programs from Greece. The petition was initiated by the refugee council of Thuringia (www.fluechtlingsrat-thr.de/aktuelles/pressemitteilungen/8-juli-2021-anh%C3%B6rung-vor-dem-th%C3%BCringer-petitionsausschuss).
Helene Heuser showed which competences municipalities have in the federal legal system to foster the admission of refugees by local and regional democratic decisions. She pointed out that the complaint against the federal rejection of the municipal admission programs could be a promising strategy for this.
For more information visit here.