Blog Post
VULNER's Italy team member Letizia Palumbo, leader of the thematic work package on human trafficking, co-authored the blog post "Italy's problem is not labour shortages, but a shortage of workers' rights."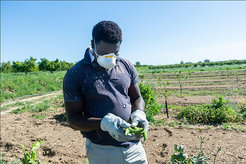 The blog post highlights the failure of Italy's scheme to regularise the status of its undocumented migrant workers, a measure prompted by the pandemic. The scheme applied only to the agri-food and domestic work sectors, not covering important sectors such as tourism, construction and food services. Moreover, there have been severe delays and bureaucratic hurdles in the processing of applications .
The authors conclude that what is needed are initiatives designed to provide migrants with "solid, long-term access to rights, employment and community participation."
Read the full blog entry here.