Conference Participation
Luc Leboeuf, VULNER scientific coordinator, speaks at the Max Planck Law Conference "Future Law" where he presents the interdisciplinary research method of the VULNER project.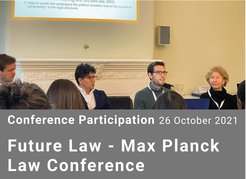 The VULNER project offers an illustration of how researchers in the Department of "Law and Anthropology" at the Max Planck Institute for Social Anthropology seek to develop and deepen the interdisciplinary dialogue between law and anthropology.
For a more detailed programme of the conference please visit here.