Policy Brief
Read our policy brief 'Strengthening Evidence-informed Policymaking on Migration', which is based on the discussions of the high-level expert meeting 'Science in Policymaking: Understanding the Use of Science in Migration Policy' organised together with the Berlin-Brandenburg Academy of Sciences and Humanities, the Institute for Advanced Sustainability Studies in Potsdam (IASS), and our sister project QuantMig.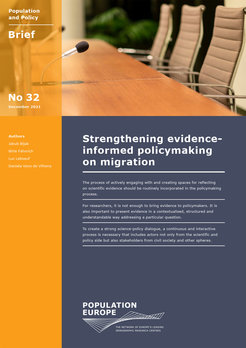 In this policy brief, Jakub Bijak, Birte Fähnrich, Luc Leboeuf and Daniela Vono de Vilhena summarise the input from the experts who took part in the discussions, on how to improve the exchange between scientists and policy makers.

The policy brief is part of Population Europe's policy brief series "Population & Policy Compact" and available here.